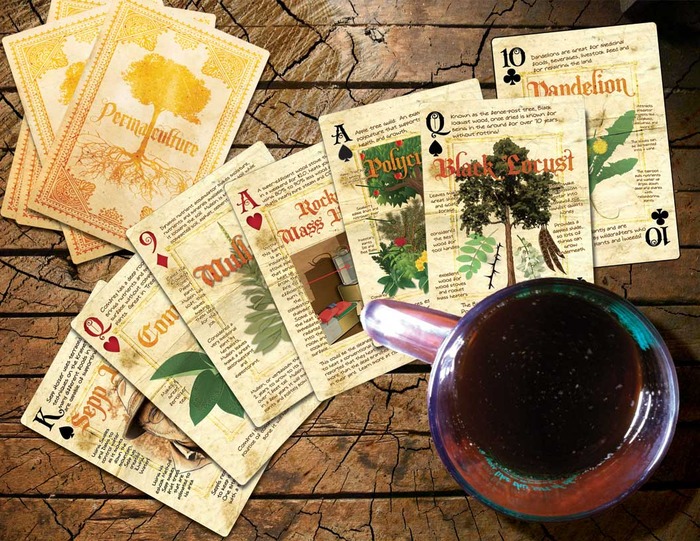 One of the questions we are asked repeatedly is "How do you tell people what permaculture is?" If you give them a book, they might look at a few pictures. If you send them a link to something they tend to save it for later. The idea of the deck of cards is that they might browse it like a book - but this is all pictures and just a few words. Much easier to browse. And hopefully convey a bigger picture in a smaller package.
When you are bonkers about permaculture, your friends and family tend to think you are crazy .... if only there were a way to help them understand your passion better ..... while at the same time resolving your winter gift giving obligations. Whattya know? I created just the thing! But first, lemme tell ya a little story.
In 2011 I made a podcast where I suggested the idea of permaculture playing cards. A thread started and people said they were going to make it a real thing. When that didn't go anywhere, I tried to shake a few trees to see if people would make this cool thing happen. A lot of people liked the idea, but nothing came of it. In May of 2012 Alexander Ojeda and I got to work.
We spent hours arguing over each card. We spent hours arguing over the whole deck and what stuff made the cut and what stuff didn't. Weeks and months passed and we had a dozen cards done. More months and we had a system of "done", "in progress" or "need to figure out how to start." On and on and on. Now it seems really weird. We're finally done. The amount of work that went into this was about twenty times greater than I originally thought it would be. But, wow - they turned out far better than I thought possible.