Permaculture Design Course (PDC) Overview
We have two PDC's and an ATC happening this year.
In 2018, near Missoula, Montana, Wheaton Labs will be hosting a new Permaculture Design course! The course is designed for hands-on learning for people low on funds but with plenty of time. We are calling it the Peasant Permaculture Design Course. It will run from Tuesday, May 22 through Thursday, June 21, 2018. Each day of this course involves four hours in the classroom and another four hours of hands-on project work at Wheaton Labs, an experimental permaculture space in the beautiful Rocky Mountains.
The Peasant PDC will have a strong focus on projects and building hands-on experience at Wheaton Labs. The course will be taught by Erica Wisner alongside numerous guest instructors from around the region. You will learn a plethora of different skills such as the identification of useful plants, how to cultivate and harvest naturally abundant forests and gardens, hands-on homestead building and cooking skills, and how to apply Permaculture to everyday life. You will also learn and practice essential subjects such as soils, water, community living, forestry, building, and appropriate technologies.
This is a project-based course. Each project will relate to class material, and teach you hands-on skills for creating your very own Resilient lifestyle.
That's a full month of adventure education for $580! Some people think we're crazy, but it is very important to us here at Wheaton Labs to provide opportunities for our community, and a safe affordable place for education and sustainability.
Tuesday, May 22 through Thursday, June 21, 2018 near Missoula, Montana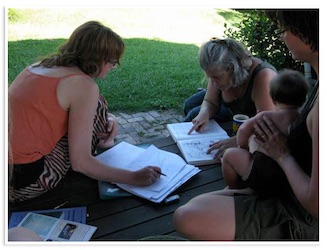 We filmed all of the previous 2017 permaculture design course and the appropriate technology course. All 177 hours of video is now available HERE!
The students and staff took a lot of photos and video of the 2017 PDC. Take a look HERE!

This Peasant Permaculture Design Course
A PDC is a life changing event for both students and instructors. It can be one of the most intense learning and networking experience of your life. Surrounded by like-minded people, you will learn the framework to thrive in a rapidly changing world. You will also develop the skills to heal damaged landscapes while providing for your own needs.
The Peasant PDC will be roughly 300 hours of total immersion into permaculture and communal living over the course of 33 days.
In this course you are designing from the get go. Every new piece of information, every new concept, is delivered in sequence so that it is immediately relevant and applicable. Your design unfolds in step with the day's subjects. This helps the learning to really take root in your mind.
The Peasant PDC is a training ground for new PDC instructors, and for those who want an in-depth, hands-on experience. Days will be full. Plan for 10 to 12 hour days, split between Class time, Project site work, and Self-care activities at the individual and group level.
Projects
4 hours per day (100 hours total): includes hands-on site improvements, including appropriate tech infrastructure, permaculture gardening, and other high-priority tasks for our host's forest/mountain permaculture projects and event facilities.
Course Time
4 hours of class time per day for 25 days (100 hours total): includes indoor and outdoor activities, reading and research, small-group design time, and in-class presentations.
Self-care
Site conditions are primitive, with tent camping, log and pole structures, and hauled water. We will cook and cleanup in camp conditions. Plan on hauling water, chopping wood, and practicing your cool-weather camping and self sufficiency. Individuals or the group may spend spare time improving campsites, going off site for household chores (such as laundry), and arranging treats and luxuries to suit ourselves.
Why "Peasant" PDC?
It's become sort of an inside joke among urban professionals escaping the rat race, that your PDC is "peasant training." You may know how to run a business, or have a college degree in some specialized subject, but you still want the fundamental skills and place-based awareness to grow food, reduce waste, and design yourself a lifestyle that's compatible with life on Earth.
A few weeks as a 'peasant' may teach you more than all the Internet research you could fit into decades of modern living. And in this format, you don't need a high-status job or inherited wealth to afford the course. It's specifically designed for folks with more time than money, like college students, retirees, and those between jobs.
If you like the deal but not the name, don't worry. Your course certificate will simply say "Permaculture Design Certificate," with all the appropriate flourishes and signatures to serve as a status symbol for years to come.
Questions
Questions about this course can be asked in this thread on permies.com